Kate Durso, a University for the Creative Arts (UCA) BA (Hons) Fashion Design student, made it to the final of the British Library x Charles Jeffrey Research Competition.
Kate, who studies Fashion at Rochester, was among eight finalists who used the manifesto of Charles Jeffrey's most recent collection, SS20 'Mind's Instructions' as inspiration to design a capsule collection that used the British Library as a resource.
The library was the perfect venue for the collection as it is the great equaliser, a place where people can become the modern ideas of anarchic by arming themselves with knowledge and thrust it out to the world. – Charles Jeffrey.
The collection's manifesto states how clothes can become a kind of visual exploration of our generation's societal consciousness, and how the collection is a way to find refuge in books and poetry to educate when politics is in such disarray.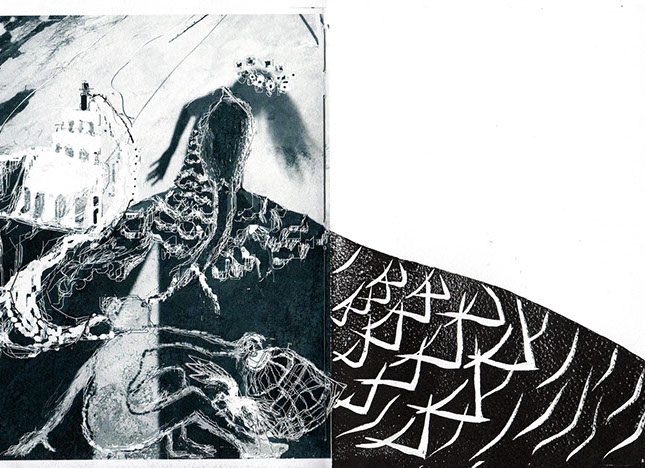 Incarcerated She by Joanna Gibbs
Kate's own collection was inspired by two books she found at the British Library, Incarcerated Shes by Joanna Gibbs, which was beautifully sewn together and illustrated, and a book of the original mosaic drawings from the floors of St Marks Basilica in Venice.
"The first book gave me the idea to look at Charles Dickens and specifically the character of Miss Havisham, from Great Expectations. This also gave me the chance to explore my local area of Rochester, where Dickens himself lived," said Kate. "I then linked this with the book of mosaics via Dickens' A Tale of Two Cities, using the heart mosaic pattern, which was perfect for the Charles Jeffrey LOVERBOY brand. My final submission was bound using stitching, much like Incarcerated Shes."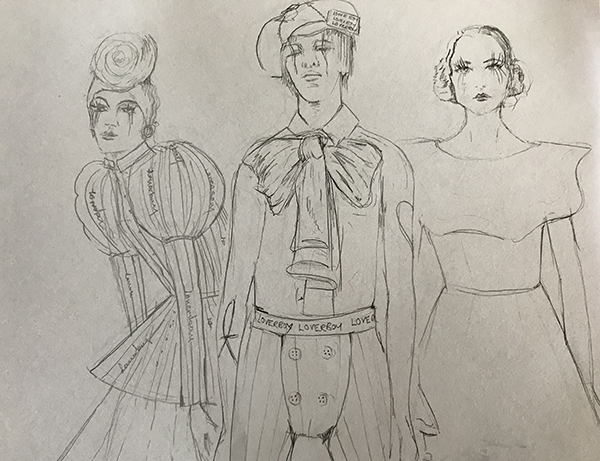 B+W Sketch by Kate Durso
The brief set by Charles reiterated the importance of research in fashion education and practice, through the abundance of the archives available at the Library. He considers knowledge as a 'form of armour', and Kate agrees.
"Good research will just flow, it will take you on a journey, collecting ideas along the way," explained Kate. "If you really embrace the research you are able to build a great atmosphere around a collection and add depth to your work, something that Charles Jeffrey is very good at, with his most recent collections awe-inspiring."
To learn more about studying Fashion at UCA, visit the course pages.