BA-SICK is a new design concept offering a sustainable alternative to overconsumption by allowing the wearer to tailor and customise garments according to individual preference and trends.
The concept came from Melina Rai, a BA Fashion Design student from the University for the Creative Arts (UCA) in Rochester, who won the university's in-house sustainable design competition with her idea.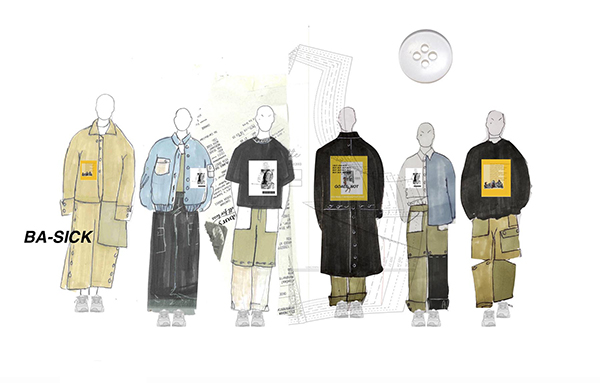 Donna Ives, Programme Director for Fashion Design who set the competition, said: "We thought her idea was an innovative solution to the problems of overconsumption in fashion, which has resulted in huge piles of garments ending up in landfill each year. Focusing on the sizing and grading of garments with the option of adding detachable textiles that could be updated seasonally, is a clever way to increase the longevity of the garments and discourage overconsumption."
Sharing clothes between friends was the inspiration behind Melina's brand. "I looked at our fashion and consumption habits and realised that although we enjoyed sharing our clothes, often the fit was not right," explained Melina. "So, I imagined how great it would be to create clothes that would fit more than one shape or size."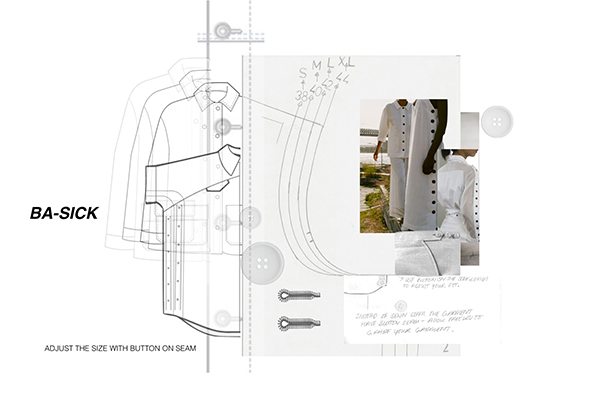 Garments in the BA-SICK collection come in just three sizes: small, medium, and large. Then, as with the process of grading increments in patternmaking, the wearer can tailor and create different sizes of each garment, but instead of a sewn seam, it uses adjustable side seam buttons. The wearer can make alterations according to their individual size and style preference, and the changing trends.
Based on a play on words, "BA-SICK is a blank canvas on which to create something Sick and stylish using trend-less and timeless silhouettes," said Melina. Basic and classic pieces once tailored by the wearer can be regularly customised with mix-and-match panels of different colours, buttoning or detachable textiles such as graphic prints and pockets. The resulting looks keep up with the latest trends and forgo the need to buy new.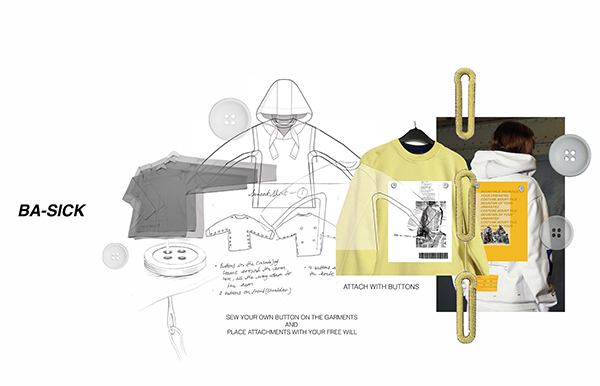 The various attachable printed graphics, pockets and other embellishments will be released as a publication four times per year. Melina's idea will be to design these quarterly publications to also include discussions of topical, pertinent, and up-to-the-minute issues relating to sustainability and the fashion industry, such as overconsumption.
"Sustainability is a crucial issue and should be for everyone," explained Melina. "As someone now working in the fashion industry – the second largest polluting industry – I can use my role to make a positive impact, helping consumers understand the negative effect that fast, throw-away fashion can have on the environment."
Interested in studying Fashion at UCA, visit the course pages.