University for the Creative Arts (UCA) Vice-Chancellor Professor Bashir Makhoul has created two significant installations for a major international exhibition in Beijing.
'Fata Morgana' – which means mirage in Italian – sees 22,000 handcrafted ceramic houses, each 4cm cubed, arranged on a bed of salt. The work is on show until March at Beijing's Today Art Museum, as part of its 'Today's Documents - A Stitch In Time' exhibition curated by Jonathan Harris and Huang Du.
Professor Makhoul explained: "I wanted to play on the idea of a mirage, creating something aesthetically seductive that doesn't feel as though it belongs in its setting. When visitors inspect the work more closely, they are confronted with what appears to be an overcrowded shanty town or slum.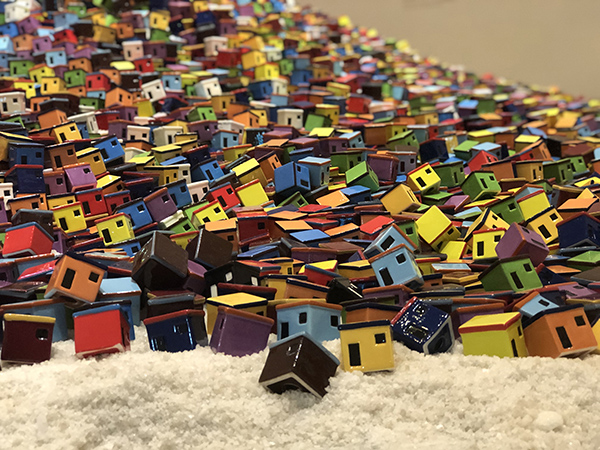 'Fata Morgana'. The ceramic houses sit on a bed of salt © Professor Bashir Makhoul
"I want to prompt a range of contradictory emotions – the viewer approaches this work assuming pleasure, but they are unsettled by what feels an almost inappropriately beautiful representation of poverty."
As a Palestinian, Professor Makhoul has been drawn to themes of belonging, identity and displacement throughout his career. In this work, he uses the motif of the house to challenge concepts of home.
He said: "The use of ceramic is a very deliberate strategy to engage with the iconography of the home. For most viewers, the idea of the home carries connotations of family, of nations and of brotherhood and belonging. Yet in this work, the ceramic houses are arranged on a bed of salt, reminiscent of the Dead Sea – a place that is hostile to life. The arrangement of the houses itself has the ramshackle nature of a refugee camp, suggesting displacement."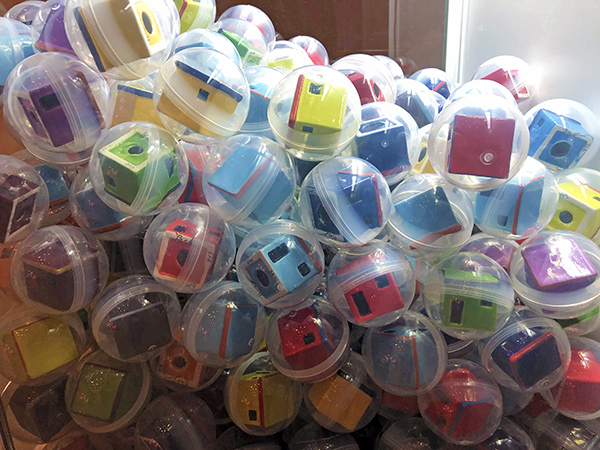 The ceramic houses in the vending machine © Professor Bashir Makhoul
Professor Makhoul deepens the subversive nature of the work still further by placing a vending machine alongside the installation. For 100RMB, visitors to the show can buy a single, signed and numbered ceramic house of their own.
"This participative element of the exhibition makes the audience complicit in the commodification of art," Professor Makhoul explained. "It also prompts deeper questions about ownership that speak to the broader themes of belonging that confront viewers."
Alongside 'Fata Morgana', Professor Makhoul is also displaying 'Fragile Lines', a 7 metre by 2.8-metre wall-mounted piece, comprised of overlapping porcelain glazed titles. This work was created with Peipei Yu, a Programme Director at UCA, and has the appearance of a world map. Complex, overlapping lines represent the fragile, ever-shifting notion of borders, with areas of red marking blood spilt.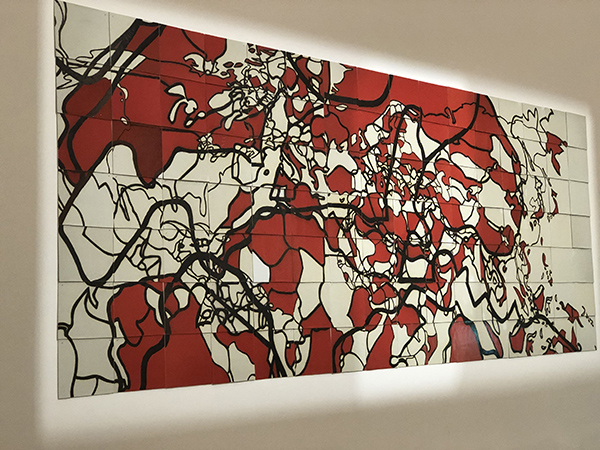 'Fragile Lines' © Professor Bashir Makhoul and Peipei Yu