Harriet Frances, a hand embroidery and adornment designer and graduate of the University for the Creative Arts (UCA) Royal School of Needlework (RSN), has been honoured by The Worshipful Company of Gold and Silver Wyre Drawers, joining them as a Trade Freeman.
Harriet graduated in 2014 and went on to form her own hand embroidery and adornment business Harriet Frances. Her company combines traditional needlework with contemporary jewellery making methods, with each piece handcrafted using hand embroidery techniques with silver or goldsmithing and semi-precious stones.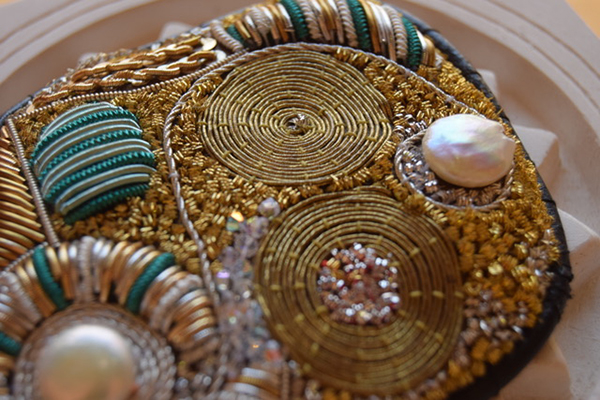 © Harriet Frances 'Goldwork'
Harriet said: "I sell my work internationally and undertake bespoke commissions. I am grateful to have been able to work with a range of clients on a variety of interesting projects, including The New Craftsmen and Alexander McQueen."
Harriet said that she felt "honoured" when she was invited to join the Gold and Silver Wyre Drawers as a Trade Freeman, a company that dates back to the seventeenth century. Whilst the Company is now mostly involved with charitable work, and the modern-day use of gold and silver wire and threads, it is closely associated with RSN where goldwork is still taught. Goldwork continues to be a technique prominent in her work, and for her to be recognised by a Guild that continues to support this skill: "Is really special. I am looking forward to being a part of a growing network, focussed around the preservation and contemporary use of these traditional skills, and raising awareness of these skills globally," said Harriet.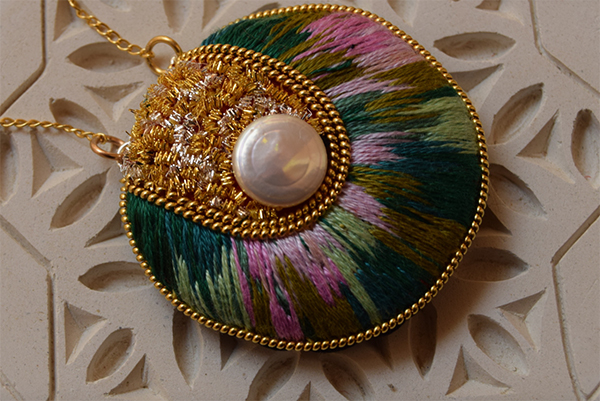 rk
© Harriet Frances 'Goldwork Blush Adornment'
Harriet has received several other awards over the years, notably a Golden Medallion from The Worshipful Company of Girdlers' for her contribution to embroidery, and The Prince's Trust Creative Careers Award, which provided Harriet with a funded London studio. More recently, Harriet has been spending time in Saudi Arabia; initially running embroidery training programmes for women of behalf of Turquoise Mountain, and going on to become their Design and Product Development Manager. Based in Riyadh, she translates cultural heritage into products which can be produced by artisans, in turn providing financial and economic security.
To find out more about Harriet's work visit her Instagram page @harrietfrances.adornments