This October, Artists in Residence from the University for the Creative Arts (UCA) Farnham, will be exhibiting their work at an end-of-year showcase, AiR – UCA Artists in Residence 2019 as part of Farnham Craft Month.
Eleven creative practitioners who have worked for the past year at UCA Farnham as Artists in Residence will be showcasing works from a diverse range of disciplines, including ceramics, glass, fine art, jewellery, metal, photography, and textiles. The works presented at AiR will showcase the development of individual creative practices during this year.
Coralscape © Nicky Lawrence
"I have benefitted from working alongside other artists, learning from them, sharing ideas, and collaborating. Being an Artist in Residence has been a fantastic opportunity to experiment, develop and learn within very supportive surroundings," said Nicky Lawrence, a jeweller.
Through her work, Nicky will be drawing attention to the destruction of the coral reef. In a collection named Coralscape, Nicky will display wearable sculptures or nudibranch sitting on a glass blown coral reef. "I hope that my work will get the public talking and thinking about the destruction of the coral reef and our role in trying to reduce global warming, be it in small, individual steps," said Nicky.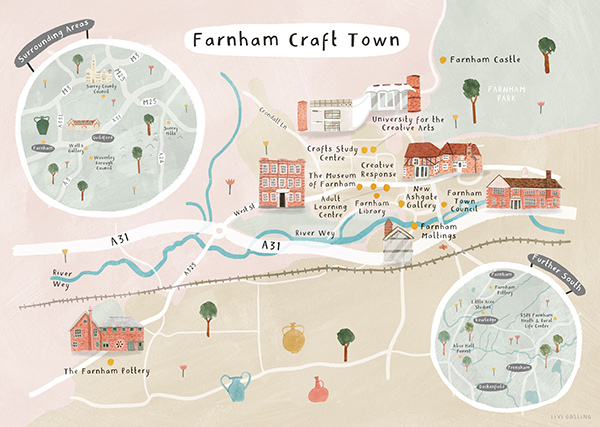 The exhibition will feature as part of Farnham's annual Craft Month celebrations, an event that brings together makers and craft organisations from across Farnham­ – England's Craft Town.
This year will see the most ambitious programme of events to date and will include something for all makers, would-be makers or those curious to find out more about what it means to live and work in a craft town. The full schedule will be available at www.crafttownengland.org.
Recycling Narratives-Whispering Sweet Nothings © Hannah Gibson
Glass artist Hannah Gibson, who will have her Recycling Narratives-Whispering Sweet Nothings project featured in the show, said: "I want to open a dialogue about glass, sustainability, recycling and the environment. I want people to see the potential for recycling glass. Not just the bottles they collect in their recycling tubs, but the glass on their mobile phone screens, cars, or televisions. Nothing gets 'thrown away' as there is no such thing as 'away'. Everything has to go somewhere."
AiR seeks to gather under one roof, a uniquely talented and original group of makers using expressive and innovative techniques to craft their own works. The exhibition will include experimental pieces, works in progress as well as collaborations, and completed pieces.
© Abigail Marsh
Abigail Marsh, who specialises in silversmithing and jewellery, will have a range of silverwork on display in the exhibition. "I use traditional methods, hand modelling, and modern processes of casting to create detailed and ambitious silverwork. It is a soft metal that I can use to create reflections and shapes that can't be achieved using anything else," she said. "My work uses humour and human forms, challenging people to engage with one another, in a world increasingly overwhelmed by technology."
Guns in Bronze ©Dd
Dd (Deborah Davies), who worked as an Artist in Residence within UCA's School of Fine Art and Photography, said: "I don't work in any one discipline; there will always be a material that speaks to the project that best expresses my idea. The work I will have on display in AiR is made entirely from dressings, bandages and sutures, with fake blood. The work explores the socio-political issue of violence referencing the rise of knife crime in the UK, and gun violence in the USA."
AiR – UCA Artists in Residence 2019 runs from 1 October to 2 November 2019 in the Foyer Gallery at the University for the Creative Arts (UCA) Farnham.
For more information about Farnham Craft Month, visit the Farnham Craft Town website.
To learn more about studying crafts at UCA, visit the course pages.