Visit the Turner Contemporary this Christmas to see the WEEE Christmas Treee, a creation by MA Fine Art alumna Zo Defferary that is made entirely from electronic waste materials.
Zo Defferary, who studied at the University for the Creative Arts (UCA) in Canterbury is now a Margate-based artist. She was commissioned by the Turner Contemporary and Future Foundry to create the tree as part of their waste-free winter market event.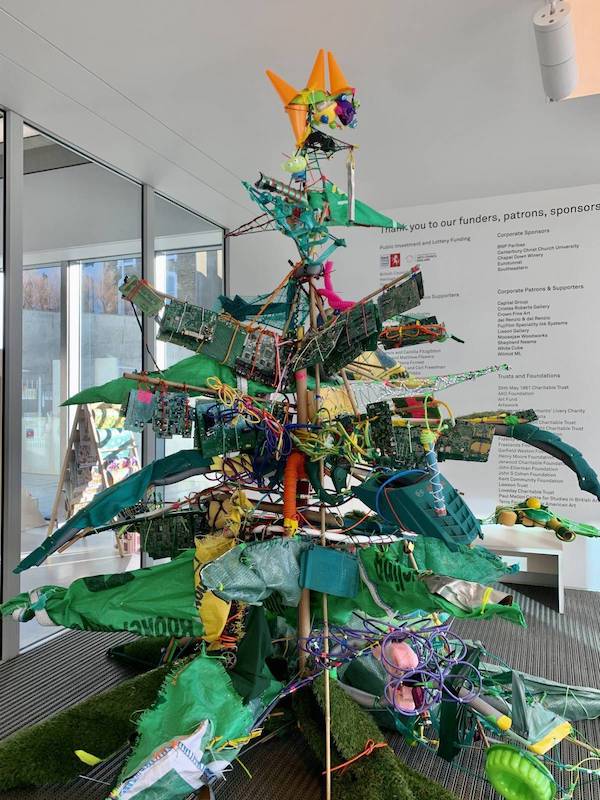 Zo Defferary, 'The WEEE Christmas Treee' at Turner Contemporary Margate, 2019. Photo ©Jonathan Goode
WEEE stands for 'waste electrical and electronic equipment'. The tree was created to highlight the 250,000 tonnes (61%) of small electronic waste that is incorrectly disposed of each year in the UK.
The waste electronics are on loan from a Thames Gateway-based recycling company called Sweeep Kuusakoski, who recycle 25% of the UK's electronic waste. Sweeep encourages us to recycle and salvage electronics, resources which are much easier to get from recycling than mining. Their message is 'put waste in the right place'.
Zo said: "On my visit to Sweeep, the green of the motherboards caught my attention and became the key design element. Alongside these, I used unwanted and discarded domestic 'stuffs' that I salvaged from skips, recycling bins, and via donations as well as my own personal hoard of obscure or rescued finds!
The tree will be on show in the gallery Foyer at the Turner Contemporary until 6th January.
To learn how you can study Fine Art at UCA, visit the course pages.