Artist talk & Reception
Giusy Pirrotta discusses her practice and current exhibition
James Hockey Gallery
Thursday 9 February 2017
4pm followed by drinks reception
The careful choreography of Pirrotta's sculptural objects, projective apparatus and moving image installations allows the audience to be active participants (as opposed to static viewers), free to roam between and around the works, from one sculptural object to an endless reflection leading to a double projection.
Nicky Hamlyn & Emmanuelle Waeckerlé
UCA, Farnham is pleased to present a solo exhibition of recent work by Giusy Pirrotta. Between the Glimpse and the Gaze is the culmination of multidisciplinary investigations carried as part of Pirrotta's practice-based PhD at UCA.
Comprising an intriguing range of ceramic objects, striking set design, and digital and analogue filmmaking, this ambitious and immersive installation highlights the evolution of Pirrotta's practice, whereby the exclusive use of film and video has given way to an expanded field of production in which sculptural objects interact with light, moving image and space. Interested in merging different visual languages and modes of reception, Pirrotta activates a sensorial space, where the aesthetics of the glimpse and the gaze co-exist. Pirrotta writes:
"The observation of the space of moving image between the cinema and the gallery, the use of light as a material and the re-interpretation of the 'grammar' related to the projection process contribute to encompass the focus related to the use of a specific medium or language, broadening the work to infinite solutions offered by the interaction between art, design and architecture."
The exhibition is accompanied by a free limited edition risograph brochure with texts by Nicky Hamlyn & Emmanuelle Waeckerlé and Giusy Pirrotta.
About
Giusy Pirrotta is an Italian born artist based in London. Her background in painting, sculpture and photography was first developed whilst studying at the Academy of Fine Art in Florence, Italy. Following this, Pirrotta gravitated towards moving image and analogue media during her MA in Fine Art at Central Saint Martins (CSM). At CSM Pirrotta was awarded the Red Mansion Art Prize which included a one-month residency in Beijing, China followed by an exhibition at the Royal Academy of Arts, London. She is currently represented by Massimo de Luca Gallery in Venice and has recently completed her Practice-Based PhD at University for the Creative Arts, Farnham.
Between the Glimpse and the Gaze has been organized by UCA's Cultural Programme, Farnham.
Image credit:
Botany
2016
Mixed media installation, detail, ceramic glazed sculpture, LED light, wallpaper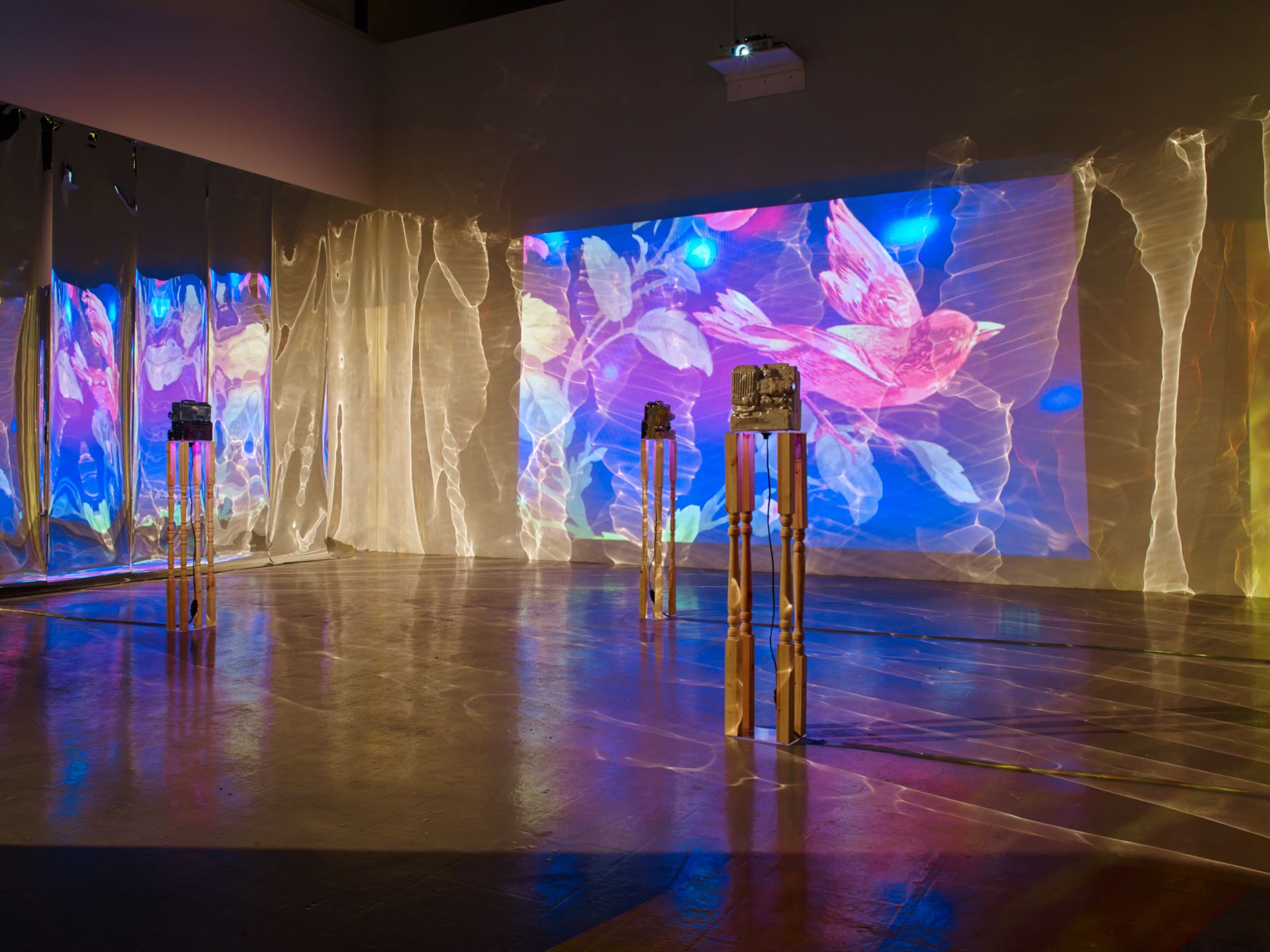 Image Credit: Steve White