Quantum Light
– Beyond a Crisis of Perception
The playful, illusory artworks and installations in Quantum Light – Beyond a Crisis of Perception are the material investigations and outcomes of Peta Jacobs' PhD research into the quantum nature of light.
Event details
14 November 2022 - 19 December 2022

10:00 - 17:00 (GMT)

James Hockey Gallery, UCA Farnham, Falkner Road, Surrey GU9 7DS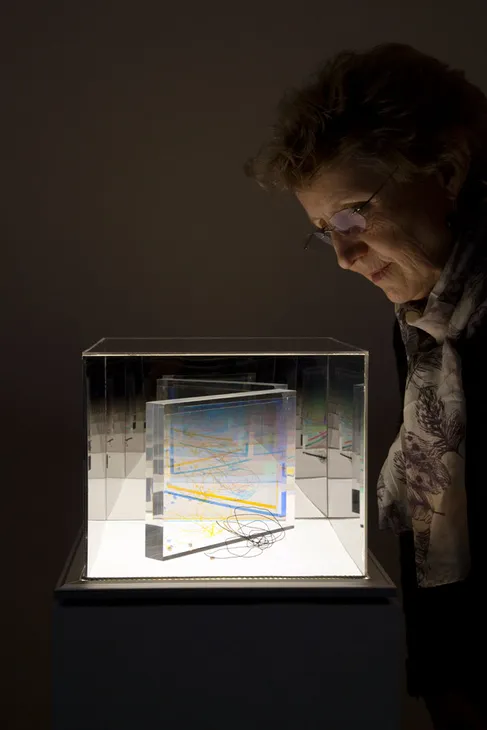 The science of quantum light questions our perceptions of reality. The origins of quantum physics centres on the two-slit experiments which ask if a photon is a particle or a wave, or indeed both at the same time, questioning dualities. They point to the interconnectedness of everything in the universe and highlight issues of uncertainty and indeterminacy, challenging the validity of a fixed point of view.
Since the 1980s, physicist Fritjof Capra has suggested that the global crises we are facing result from a "crisis of perception" stemming from thinking primarily governed by reason, individualism and a dualistic, binary, either/or position (1996, 2014). He argued that finding solutions by navigating the problems differently requires a perceptual shift that can dissolve old patterns of thought in ways that can reconcile opposites and reunite the splits between body and mind, science and spirit, reason and intuition (1985).
Materials found in the two-slit experiments (such as half-silvered mirror, prisms and diffraction grating) are incorporated into the artworks. They are ideal for visually expressing quantum properties such as, particle/wave duality, indeterminacy, superposition and boundary between object and surroundings. Repeatedly referencing wave/particle duality, the artworks created during this research question boundaries, reconcile dualisms and question fixed viewpoints both visually and experientially. The works offer shifting views relative to viewpoint, highlighting the entangled relationship of observer and observed (revealed in physics by the two-slit experiments).
Applied 'textile thinking' underpins the PhD research (Peta earned a BA and MA in Textiles from UCA). Textile thinking was employed to examine the many difficult themes that arose from the exploration of quantum light. It is a non-linear 'soft' logic which offers processes of thinking-through-making as well as providing many useful metaphors, such as, folding, braiding and weaving. Multiple elements are woven or folded together simultaneously to reside coherently within the physicality of abstract, mixed-media artworks.
Meet the Artist: Saturday 3 December 11am - 1pm. To book click here.
Preview: Thursday 8 December 4-7pm. To book click here.
For more information about the artist and the exhibition click here.