Kings Hill Public Art Project
with Yinka Ilori Studio
UCA Student Atelier Opportunities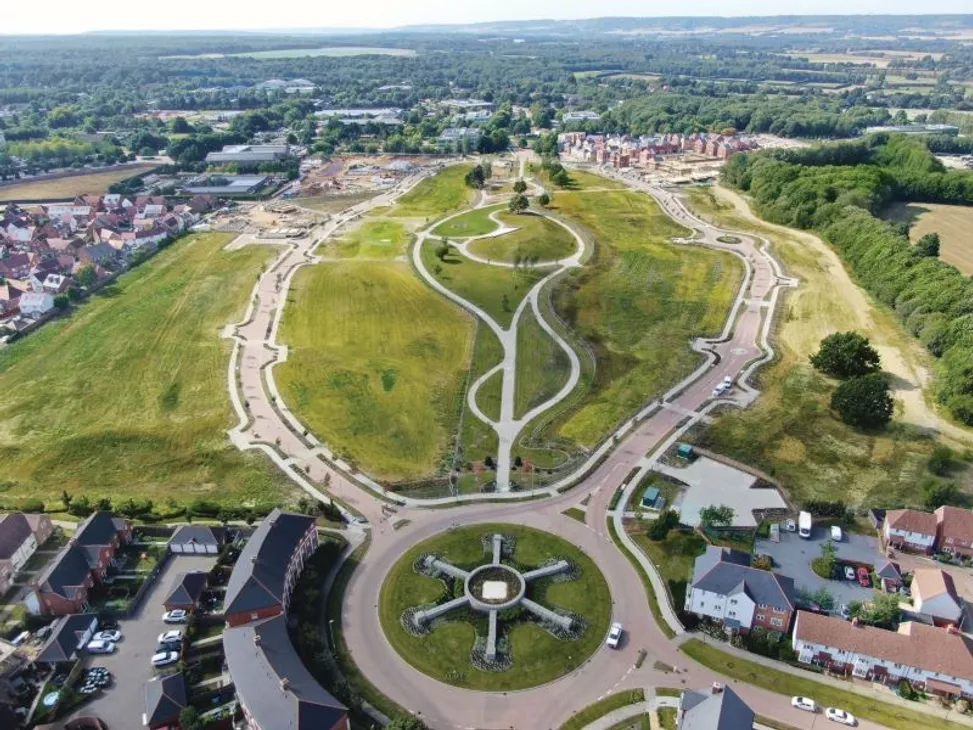 The New Public Park at Kings Hill - Courtesy of Liberty Property Trust
Partnership
UCA has been chosen as the academic partner in a major new public art project at Kings Hill in Kent. The development partners behind the new garden village - Liberty Property Trust and Kent County Council (KCC) - have formed a dynamic creative partnership, working with Margate-based gallery Turner Contemporary and the University for the Creative Arts (UCA) to create a landmark piece of art for the greenfield site. Artist and designer Yinka Ilori has been named as the Artist in Residence, his first commission for a project of this kind.
Artist
Ilori specialises in storytelling by fusing his British and Nigerian heritage to communicate new narratives in contemporary design. He began his practice in 2011 up-cycling vintage furniture, inspired by the traditional Nigerian parables and West African fabrics that surrounded him as a child. Commenting on his appointment, Yinka Ilori, said: "This is my first experience as an artist-in-residence, and its super exciting to be able to connect with new people and new ideas. I am looking forward to learning new things, understanding new cultures and ways of thinking."
Ilori has developed projects for Somerset House, Dulwich Picture Gallery, Selfridges and more and recently designed the staging and award for this year's BRIT awards.
To take part in the upcoming Choral Workshops with sound artist Peter Adjaye on 22nd April 2022 click here.
Atelier
A student atelier is being assembled by UCA to support the project, and aims to involve students from across disciplines, including photography, architecture, fine art, fashion, interior design and more, both undergraduate and postgraduate students. The project will be led academically by Professor Terry Perk, UCA Assistant Vice-Chancellor (Academic) and Georgina Scott, UCA Gallery Curator (Kent).
UCA's students often work with professionals in the creative sector during their studies but this project is a unique opportunity for you to play a central role in a major public art project. The atelier will create a rich and layered complement to Ilori's work and gain invaluable curatorial and production skills and knowledge along the way. This will include a number of paid placements working alongside Turner Contemporary, Yinka Ilori Studio and UCA's curatorial teams.
Alongside their work with the artist, UCA students will develop an exhibition for Kings Hill's Control Tower Gallery and for UCA's Kent Galleries, a programme of events and a professional publication to mark and record the project.
The ongoing pandemic means that the atelier will have to adapt their practice to adhere to public health guidance and restrictions. Their responses to these unique challenges will connect their work with a very specific time in local and national history.
Event details
1 November 2020 - 31 July 2022

10:00 - 17:00 (GMT)

Online