Documents from the Edges of Conflict

Event details
1 December 2021 - 25 February 2022

10:00 - 17:00 (GMT)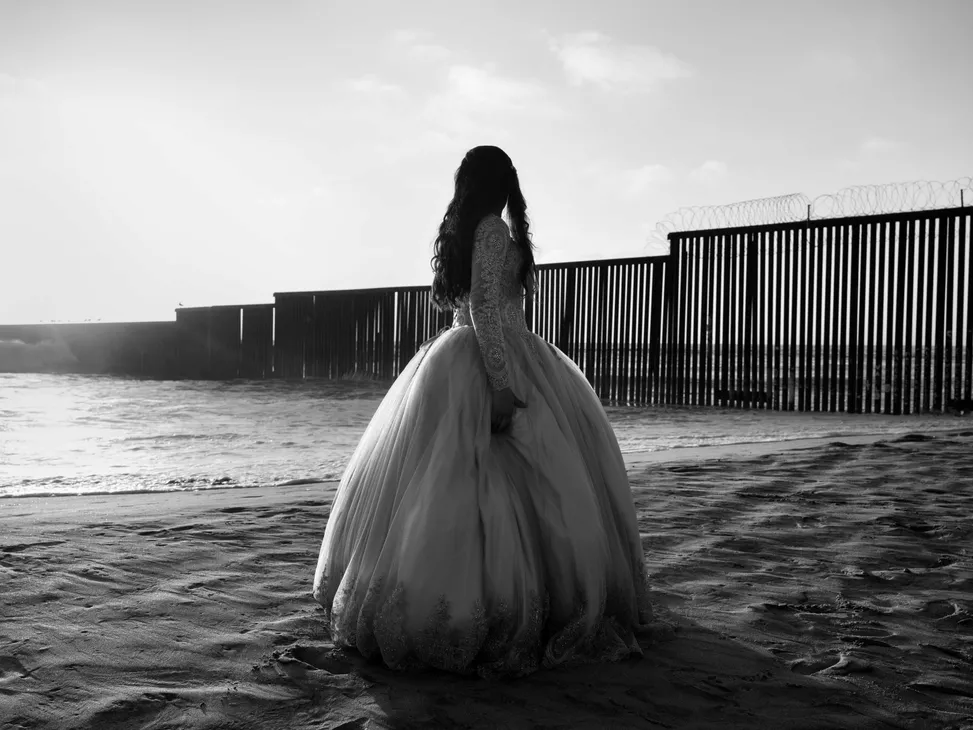 Paolo Pellegrin, Paolo Pellegrin's Tijuana – A Girl celebrating her Quinceanera along the US- Mexico Border Tijuana Mexico (2019) ©The artist. Courtesy of Michael Hoppen Gallery.
The international group exhibition Documents from the Edges of Conflict presents the work of artists who engage with society's increasing desire to capture and disseminate images of conflict and tension in world events. Their subjects include the impact of political decisions and divisions; newspaper and media reports of traumatic events; contested boundaries and borders such as those between Mexico and the United States or Palestine and Israel, and the influence of aggressive world leaders on our histories and experiences.
The lens-based work of the artists engages us with the various meanings of the word 'document' and creates new visual routes through a documentary field marked by the disappearance of its traditional models of representation. The belief that it is possible to present conflict in an objective manner has given way to new photographic and lens-based counter-stories, or at least different versions of representation. In the face of global uncertainty, intolerance and polarization this exhibition presents artists seeking other ways of approaching conflict and dispute, through film and photography, to provide alternative and contemplative visual reactions and provocations. From presentations on screens, a lightbox, or photographic prints there is a provocative visual response to the consequences of our social and political histories.
The exhibition is at the James Hockey Gallery, UCA Farnham from 1 December 2021 - 25 February 2022 and is open from 10am - 5pm.
With thanks to the talented artists who contributed their work: George Barber, David Birkin, Mona Hatoum, Alfredo Jaar, kennardphillipps, Ori Gersht, MacDonaldStrand, Steffi Klenz, Paolo Pellegrin, Sarah Pickering, Wolfgang Tillmans, Santiago Sierra, Catherine Yass
George Barber was born in 1958 near Georgetown, Guyana at Uitvlugt West Demerara. Barber's work is diverse and over his career, he has had an installation at Tate Britain entitled 'Automotive Action Painting' (Film & Video Umbrella) and shows of his video sculptures, 'The Long Commute' at Jack the Pelican Presents Gallery Brooklyn, New York. He has also been part of numerous programmes at Tate Modern and had retrospectives at the ICA, New York Film & Video Festival and recently at La Rochelle Festival, France. Seventeen Gallery and Anthony Wilkinson have also shown his work and his DVD release from the LUX gained glowing reviews from Art Forum, Art Monthly and the Daily Telegraph among others. In 2021, Barber has been nominated for the Derek Jarman Award and his work has been shown at the Next Dataa, the word's premiere video art digital gallery. He currently lives and works in London.
Ori Gersht was born in Israel in 1967, but has lived in London for over 30 years. Throughout his career, his work has been concerned with the relationships between history, memory and landscape. He often adopts a poetic, metaphorical approach to explore the difficulties of visually representing conflict and violent events or histories, including his own family's experiences during the Holocaust.
He is currently represented by Yancey Richardson Gallery, New York; Talley Dunn Gallery, Dallas, Texas; Kohn Gallery, Los Angeles, California; as well as Noga Gallery of Contemporary Art, Tel-Aviv, Israel; and Brand New Gallery, Milan, Italy.
Mona Hatoum was born into a Palestinian family in Beirut, Lebanon in 1952 and has lived in London since 1975. She has participated in numerous important group exhibitions including the Turner Prize, Tate Britain, London (1995); Venice Biennale (1995, 2005) Documenta, Kassel (2002, 2017); Biennale of Sydney (2006); Istanbul Biennale (1995, 2011); and Moscow Biennale of Contemporary Art (2013).
Her work has been exhibited in major museums and art institutions around the world; with recent solo exhibitions including the Menil Collection, Houston, Texas (2017) which toured to the Pulitzer Arts Foundation, St Louis, Missouri (2018).
Hatoum was awarded the Joan Miró Prize (2011), the 10th Hiroshima Art Prize (2017) and the Praemium Imperiale (2019) in recognition of her lifetime achievement in sculpture. In 2020, Mona Hatoum was winner of the Julio González Prize.
Alfredo Jaar is an artist, architect, and filmmaker who lives and works in New York. His work has been shown extensively around the world. He has participated in the Biennales of Venice (1986, 2007, 2009, 2013) and Sao Paulo (1987, 1989, 2010, 2020) and in the Documenta in Kassel (1987, 2002). Jaar has realised more than seventy public interventions around the world. Over sixty monographic publications have been published about his work. He became a Guggenheim Fellow in 1985 and a MacArthur Fellow in 2000. He received the Hiroshima Art Prize in 2018 and the Hasselblad Award in 2020.
His work can be found in the collections of dozens of museums, institutions and private collections worldwide.
kennardphillipps is a collaboration between Peter Kennard and Cat Phillipps working since 2002 to produce art in response to the invasion of Iraq. kennardphillipps' work has evolved to confront power and war across the globe, but also as a critical tool that connects to international movements for social and political change. Their work is conceived for the street, the gallery, the web, newspapers & magazines, and they have participated in numerous international and home conferences and workshops. Collections in which their work is presently held are the National Portrait Gallery, London, UK; Herbert Art Gallery & Museum, Coventry, UK; Design Museum, London, UK; Victoria and Albert Museum, London, UK; a/political, private collection, and others.
Steffi Klenz is an artist based in London who works with photography and video. Her practice has been consistently preoccupied with the built environment, critically exploring the notion of place and spatiality. Her works indicate a clear interest in the political engagement with particular buildings, environments or geographies in conflict, considering the relationship between aesthetics, technology and representation. Her work has been shown in group and solo exhibitions both nationally and internationally at institutions such as the Wellcome Collection London, The British Museum, Camden Art Centre, The Royal Scottish Academy in Edinburgh, FotoMuseum Antwerp, Museum of Contemporary Art Taipei, Los Angeles Centre for Digital Arts, Phoenix Art Museum, The Fine Art Museum Luleå, The Finish Museum of Photography, The SeaCity Museum in Southampton, The Royal Academy in London, The New Art Gallery Walsall, Künstlerhaus Bethanien in Berlin, Kunstverein Ludwigshafen and Museum Künstlerkolonie in Darmstadt.
MacDonaldStrand are the collaborative partnership of Gordon MacDonald and Clare Strand. They are based in Brighton, England. MacDonald founded and, until recently, edited Photoworks magazine. He is a co-founder of the Brighton Photo Fringe and Chair of the Board of Trustees. He is also co-Director of GOST Books, alongside Stuart Smith; a new photography and visual arts publishers based in London. Strand is an internationally recognised artist whose work is held in many private and public collections including the Arts Council of England collection, the National Collection at the V&A and Collection Centré Pompidou. She is represented by Brancolini Grimaldi, London.
Paolo Pellegrin has documented many of this generation's major disasters and conflicts, from revolutions to wars to tsunamis. He photographed in Lebanon, Iran, Palestine, Romania, Afghanistan, Libya, Cuba, the United States, Mali, Egypt, Algeria, Haiti, Tunisia, and Indonesia.
Pellegrin was born in 1964 in Rome. Between 1991 and 2001 Pellegrin was represented by Agence VU in Paris. In 2001 he became a Magnum Photos nominee and a full member in 2005. Pellegrin is a winner of many awards, including ten World Press Photo awards and numerous Photographer of the Year awards, a Leica Medal of Excellence, an Olivier Rebbot Award, the Hansel-Meith Preis, and the Robert Capa Gold Medal Award. In 2006, he was assigned the W. Eugene Smith Grant in Humanistic Photography.
Sarah Pickering is a British visual artist who works with photography and whose work deals with themes of falsity and deception. Pickering uses the process of the photographic image making as a way of staging, observing, performing, and facilitating in order to examine and explore mediated versions of reality and work beyond its confines. Central to her work is an intense and repeated scrutiny of the issues raised by such subjects as fakes, tests, hierarchy, science-fiction, explosions, photography, and gunfire. Pickering's photography examines the frequent gulf between documentation and that which is documented. Her work is held in the collections of the V&A, London; MoCP, Chicago; and North Carolina Museum of Art, Raleigh.
Santiago Sierra's work addresses contemporary social and political issues through sculpture, performance and installation. His subject matter seeks to arouse questions concerning globalisation, commerce, power and corporatisation. Sierra's materials and techniques are varied as his work is conceptually driven. He pushes the boundaries of the conventional gallery by placing unconventional objects within the gallery and even performing pieces outside of the gallery all together. Sierra's work displays the crossover between different media and art practices, taking it to the areas of social and political discourse. Sierra represented Spain in the 50th Venice Biennale. He has recently had shows in Austria, Spain, Tel Aviv and the UK and is in a number of major collections.
Wolfgang Tillmans was born in 1968 in Remscheid, Germany and since 2011 he lives and works in London and in Berlin.
Tillmans won the Turner Prize (2000), the Kulturpreis at the German Society for Photography (2009) and the Wollaston Award at the Royal Academy of Arts (2014). In 2015 he was awarded the Hasselblad Award and the Centenary Medal and Honorary Fellowship Award at the Royal Photographic Society, followed by the Gold Medal of Honorary Patronage of Trinity's Philosophical Society in Dublin (2016). In 2018 Tillmans was also the winner of the Goslarer Kaiserring award and the Nino Gennaro Award.
Wolfgang Tillmans was professor of interdisciplinary art at Städelschule in Frankfurt am Main (2003-2009). Between 2009-1014 he has been an Artist Trustee at the Board of Trustees for the Tate in London. Tillmans has been an RA (Royal Academician) since 2013.
Catherine Yass is a photographer and filmmaker, born in London in 1963. She represented Britain at the Indian Triennale at the Museum of Modern Art in Delhi (2001); in 2002 she was nominated for the Turner Prize and in 2005 she took up a British Council Residency in China. Yass has completed major commissions for The Jewish Community Centre, London (2013), the Rambert Dance Company, London (2013) and for Merce Cunningham, Brooklyn Academy of Music, New York (2003).
Her most recent solo exhibitions include Milton Keynes Gallery (2014); Alison Jacques Gallery, London (2012); a mid-career retrospective at De La Warr Pavilion, Bexhill-on-Sea (2011); The Phillips Collections, Washington D.C. (2011); Stedelijk-Hertogenbosch Museum, The Netherlands (2009) and St Louis Art Museum, Missouri (2009). Yass has just had a major retrospective at Ambika P3 work can be found in a number of public collections including the Tate, London; Victoria and Albert Museum, London; Biblioteca Albertina, Leipzig; National Museum of Women in the Arts Collection, Washington D.C and other important museums and institutions around the world.
Curated by Jean Wainwright and Steffi Klenz