Film Production alumni
Kate's a real Marvel
Kate Herron is living proof that with the skill, the passion, and the persistence, you can get your dream job. The UCA graduate was Director and Executive Producer for the first season of Disney+ series Loki, following the adventures of the God of Mischief while trapped at the mysterious TVA.
12 Apr 2022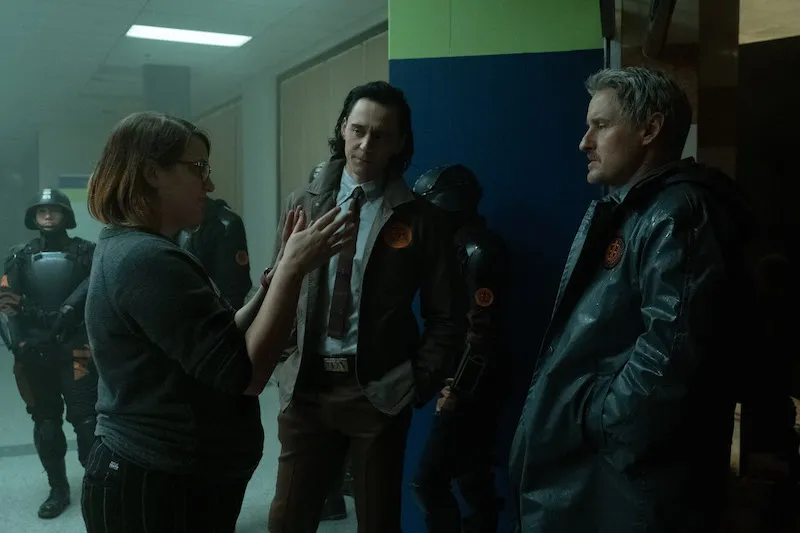 Loki director Kate Herron, left, with actors Tom Hiddleston (Loki) and Owen Wilson (Mobius). Picture courtesy of Marvel Studios/Disney+
But how did Kate, who studied Film Production, get the gig? Was it an out-of-the-blue phone call from the head of Marvel Studios, Kevin Feige, or was there a sort of audition process?
"Essentially I stalked Marvel and got my agent to phone them every day until they met me," she told us. "I knew I wasn't the most experienced director they were meeting with, but I was determined to be the most passionate. It was an amazing experience to work with Kevin and his team and learn about storytelling from them and be a part of that process."
She was announced to the world at the bi-annual Disney D23 conference in front of a crowd of thousands, and an online audience of millions. No pressure then!
"There were heart palpitations for sure, but I knew I was working with a fantastic team of writers, and I love Loki so having a chance to tell their story was something very special to me," she said. "I would say, I felt like I really found my team on Loki - I had a fantastic group of heads of department and I hope we get to all collaborate again.
"It's completely changed my life. I love big genre stories with heart, and this was my chance to really explore and show I could do that. I got to work with, and learn from, so many brilliant people at the top of their game."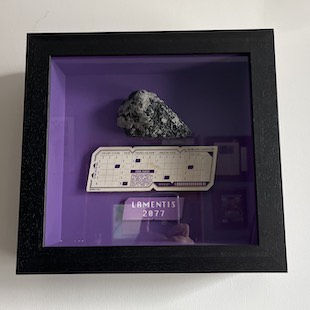 A prop from the Loki set - a rock from the destroyed planet Lamentis, and a train ticket - which Kate kept as a memento
Prior to Loki, Kate had been racking up a filmography of predominantly short films and programmes, including Five by Five, working alongside producer and actor Idris Elba as part of his takeover series for BBC Three.
"Short films are a great creative space because they let you hone your voice as a filmmaker but also so often, you are making these films on a wing and prayer, so you always need to problem solve and think on your feet fast," she said. "And this is the case no matter what your budget! Things will go wrong, so short films beyond being a great creative medium, are a fantastic training for that."
Arguably Kate's big break, though, was directing four episodes of a then unknown Netflix series, Sex Education. Now into its third season, the award-winning show is one of the streaming service's biggest hits.
"Working on the first season, none of us could have predicted the success that Sex Education would have. We were one of the first shows Netflix was making in the UK and while we were so passionate about the story we were telling, it was amazing to see the show embraced by audiences when it was out there.
"For me, directing those four episodes was an incredible experience, it gave me a chance to lead a team on a bigger scale and show I could work with high-profile actors. My experience on that show changed me as a person fundamentally and very much taught me what kind of stories I want to keep making and putting out in the world. I am very proud to have been a part of it and work with everyone on it."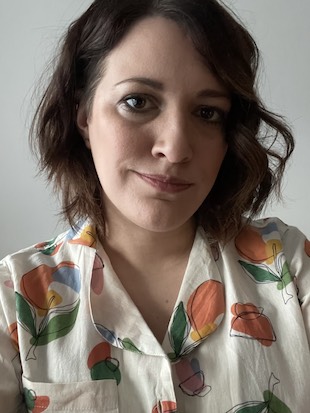 Kate Herron
What's next for Kate is actually under wraps, though she did reveal she's working on a new comic book with her writing partner, Briony Redman, for Skybound Entertainment (makers of The Walking Dead) as part of its teen horror-anthology series.
Looking back, Kate says her time at UCA – she graduated in 2009 – was a huge learning curve.
"It taught me who is behind the making of a film," she said. "Before I attended, I loved cinema but didn't understand completely what the inner workings were to make a story come to life. UCA taught me this foundation and gave me great skills for how to lead and work with a team."
As always with our alumni chats, we also asked Kate what her advice was for current students.
"My best advice is to make as much as you can outside of the course as possible. Take advantage of the free equipment access and studio space. Making shorts, you are in a rare position where you aren't having to make a story for anyone but yourselves, so be bold, be weird and tell stories you want to see. This will not only help you work out your voice as a filmmaker but also as a safe place to fail and also succeed.
"My other main piece of advice is regarding short film festivals," she added. "Make a film that is under five minutes if you can, as these have a much better chance of being programmed when you are competing with so many other films. A short-short film is a great way to get your foot in the door at the bigger film festivals."
If you want to find out more about our courses across the School of Film, Media and Performing Arts, take a look at our course pages. And to keep up with Kate's work you can follow her on twitter, @iamkateherron