Practice as Research
PhD Work in Progress exhibition
Practice-based research: Work-in-progress, demonstrates diverse approaches to research methods. This exhibition showcases multidisciplinary creative research by UCA, PhD students as part of Farnham Craft Month.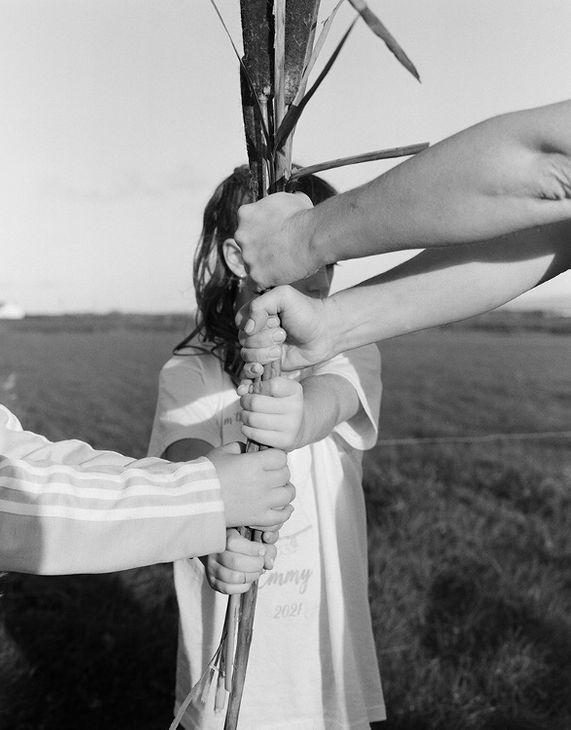 Mona Craven is a part-time PhD candidate, fine-artist and educator. Her textile culture research focuses on the space in-between cultures as identified by Homi Bhabha in his 'third space' theory. The work explores the cultural dislocation associated with a whitework embroidered gown and an indigo resist-print cloth. Both cloths share complex colonial and postcolonial histories. Material histories and associated dislocated culture connect the two cloths. The implicated, the entangled and common threads are translated through, cloth, stitch, and light. This work forms installations and photogravure prints.
Dee Honeybun is a London based artist working with digital moving-image and photography. Practice-based research examines moving images in the cityscape, specifically those in retail fashion and apparel shop windows to explore sets of relations between networked images, the built environment, and the body. Collaboration is part of Honeybun's approach, most recently working with a movement practitioner.
Henrica Langh's art practice is transdisciplinary and incorporates different subject areas and mediums, including dress and textiles, poetry, photography, and installation. Henrica is particularly interested in experimental methods and in exploring dress as a second skin and an emotional extension of the self. Current research is concerned with people's experience of sentimental garments that evoke strong emotions and how the feelings associated with these can be explored through poetic contemplation. The research includes participatory elements and part of the research process involves exploring what the process of poetic contemplation might look like.
Laura Lee is a creative practitioner, guitarist, composer and performer with an interdisciplinary approach to arts, music and collaboration. Laura is a practice-based researcher who combines popular musicology and arts practice-based research, exposing new approaches to music technology, blurring the lines of the studio and stage. Currently lecturing between UK and Germany on BA Music Composition and Technology, BA Audio Design and MA Computing and the Arts.
Annette Mills' research explores process in art. She interrogates her own practice, contemporary basketry, using journals, sketchbooks and experimental pieces. Annette employs traditional basketry techniques; looping, braiding and twining to develop a personal, tactile language to reveal her own creative process and concepts linked to embodiment and material thinking. Her experimental studies act as markers which indicate when changes occur in her creative process.
LouLou Morris discovered weaving in 2007, and it was like coming home. Shortly afterwards, she discovered tapestry weaving, and it was like coming home to find a sofa and mug of tea waiting. She had found her medium. At West Dean College, working towards an MFA, Morris came to the realisation that what she wanted to do was 'escape the tyranny of the rectangle, and take tapestry off the wall', which developed into placing tapestry sculptures in the landscape. A research interest in mapping and marking the metaphorical landscape of grief, together with a long-standing fascination with ancient ritual landscapes led to a part-time practice-based PhD exploring what she refers to as 'griefscapes', alongside her work as a Chaplain to older people and people living with dementia.
Simon Olmetti is an Italian artist based in London, currently on a practice-based PhD in Fine Arts at the University for the Creative Arts. Previously, gaining an MA in Fine Art Photography from the University of Westminster, and has studied painting and performance at various institutions, including Central Saint Martins and L.A.D.A. (Live Art Development Agency). His practice explores questions of queerness, desire and place through drawing, photography, walking and installations. His current practice-based research focuses on queering nature through alternative spirituality, building upon key theorists including José E. Muñoz, Federico Campagna, Karen Barad, Donna Haraway, Susan Sontag, and Sarah Ahmed, linking queer art to Land art and eco-feminist practices. He has exhibited in group exhibitions in the UK including the Brighton Photo Fringe, and participated in two art residencies in rural Wales and Brighton
Gina Pierce is a designer, researcher and educator whose work focuses on the creative use of the textile archive to inspire new outcomes. Her practice based PhD seeks to develop the concept of an 'Alternative Textile Archive' to encourage further engagement from those outside academia. She has held a Senior Lectureship post at London Metropolitan University for many years, while continuing her own design practice.
Elizabeth Ransom is a UK based artist and researcher working with alternative photographic practices. As an artist Ransom takes from her own lived experiences of migration to explore transnationality, place attachment, home and memory. Her work has been exhibited internationally in the UK, India, Mexico, China and the US.
1 October 2021 - 29 October 2021

10:00 - 16:00 (GMT)

Foyer Gallery University for the Creative Arts Falkner Rd Farnham GU9 7DS